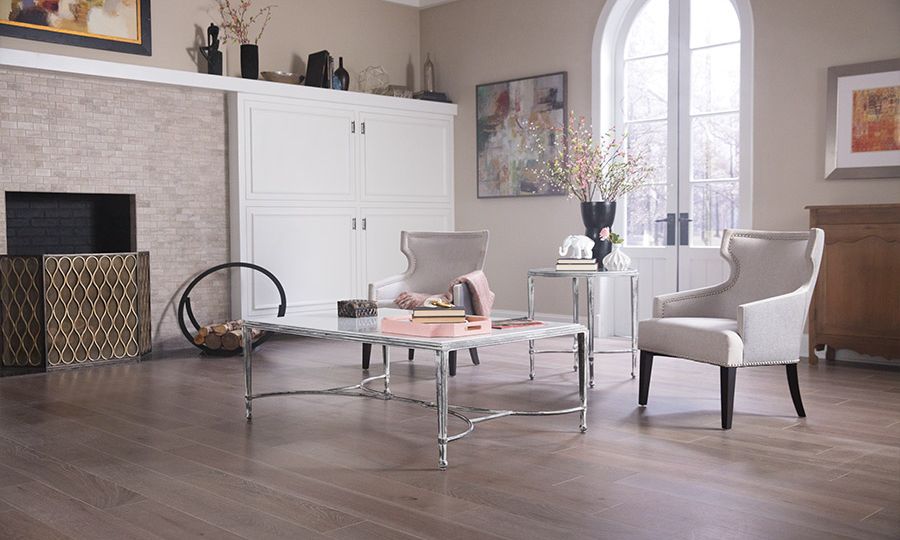 When hearing the words Vinyl Flooring, the image of smooth yet easy-to-damage flooring will come to mind. There are often many assumptions and misunderstandings about Vinyl Flooring, as there are many different types. Carpet Corner are here to get straight to the point, to inform you about the different types of Vinyl Flooring.
In the most basic of terms, Vinyl Flooring is smooth, water-resistant flooring with a luxurious appearance. Vinyl Flooring is known for being a synthetic material, with an additional durable protective layer, which separates it from Laminate Flooring.
Two Different Types of Vinyl Flooring
To begin with, there are two main types of Vinyl Flooring: Vinyl Sheet Flooring and Luxury Vinyl Tiles. There are also three different types of appearance: wood effect vinyl, tile effect vinyl and patterned vinyl. So, what do you need to know?
Vinyl Sheet Flooring, or Vinyl Roll, is the use of multi-layered sheets. Ideal for bathrooms, kitchens and laundry rooms alike. This type of flooring is encouraged in homes with both families and pets. As it is stain-resistant and easy to maintain. You can choose from an array of different styles and materials. As well as, experiment with wood and stone ranges, perfect for a contemporary interior.
Vinyl Sheet Flooring is most commonly the cheaper of the two. However, Vinyl Sheet Flooring needs to be installed properly. Being cut to precision, you will need to rely on flooring specialists, like the team here at Carpet Corner.
Luxury Vinyl Tiles maintain the same multi-layers of protection, with the only difference being that they are tiles. Luxury Vinyl Tiles maintain the same resistance, yet it's advised to place rugs on them for protection and appearance. In terms of innovating your home or workplace, Vinyl Tiles offer a comfort and appearance which cannot be rivalled.
Whilst, being more expensive than Sheet Flooring, in the long-term it will save you time and money, otherwise wasted on carpets. On top of this, if there is a problem and you are in need of your flooring to be repaired, Vinyl Tiles can be repaired with great ease, unlike Sheet Flooring.
Carpet Corner are flooring specialists, who can help you decide, buy and install your new flooring, today!
To contact our flooring specialists, click here.