Quality Vinyl Flooring
Looking for a flooring style that is family-friendly as well as being budget-friendly? Well, then vinyl is the one for you!
It's practical, durable, waterproof, and easy to clean, what more could you need? This style of flooring is suitable to be used in practically every room in your home including bathrooms, kitchens, and conservatories.
Why not visit our showroom and browse through our collection of vinyl? Our collections include sheet vinyl, tiles, and planks. We've got a great range in stock, hopefully suiting any range, taste, and budget!
We have over 50 years of experience which means that we're able to find the right flooring for your homely needs!
Wood Effect Vinyl flooring is perfect for those who have a love of nature or simply want to bring the outside into their home. If you're looking for a natural effect without the drawbacks that come with hardwood flooring. This beautiful alternative will not only cost you less, but it looks so good you'd never know the difference. Our range of Wood Effect Vinyl is available in many styles and designs, we're certain you'll find the perfect flooring to suit your home.
Our fabulous range of Tile Effect Vinyl flooring will enable you to update your home with ease and still allow you to obtain the beautifully tiled floor aesthetic many homeowners yearn for. Tile effect vinyl flooring is the perfect choice for modern kitchens or bathrooms. However, due to it's versatility, can be used in any room to give you your desired Tiled floor effect. Tile effect vinyl is extremely realistic enabling you to enjoy all the visual benefits from a vinyl floor as if it were real tiles!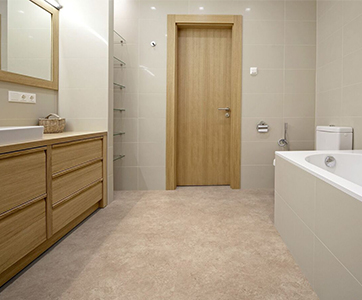 Just because Patterned Vinyl flooring can cost you less than other flooring options, doesn't mean it can't look just as good – if not better! Patterned vinyl flooring is a fantastic look for those who demand individuality and style in their home. This type of patterned flooring allows you to make a statement in any room of the house as it comes in a range of bold and beautiful designs.
Our Suppliers
Suppliers of quality vinyl floors to Bury, Bolton, Manchester, Oldham, Rochdale, Salford, Stockport, Tameside, Trafford, and Wigan