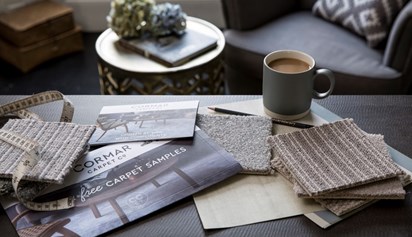 Today we thought we would write about the topic "How to buy a carpet" and we are going to cover advice from picking out carpet samples to finally getting your carpet fitted, Hopefully, we will cover everything you need to know and the importance of each step in how to buy a carpet, underlay and expert fitting. So, without further ado, let us begin.
VISITING A CARPET RETAILER
Recent events have meant online shopping has become more popular than ever. However, when it comes to carpet it is difficult to get a sense of what it would be like in your home without seeing the texture and touching the pile been. On this basis, you cannot beat seeing a carpet with your own eyes before buying it.
More importantly, carpeting normally covers quite a large space. So, rather than decide based on a small sample of carpet. It is good to see the carpet on the roll, as this helps you envisage what it would like in in a larger area.
GET CARPET SAMPLES
Once you are on track with the colour and type of carpet you want, it is time to get some samples so that you can see and feel the different options and see how the carpets will look under the lighting conditions of your home.
You can ask for samples if you come in and see us in-store. Or, if you are doing some research online a lot of carpet manufacturers will send a sample pack that can be sent to you with no obligation to buy.
Whichever route you choose, do not rely on how the carpet looks in pictures or even in the carpet shop. What seems like the perfect shade underneath bright lights could look an entirely different colour in your bedroom where you may use low wattage lighting.
So, it good to take your carpet samples home and look at them at different times of day, to help your decision-making.
Choose an underlay
Underlay is essential to help carpets sit properly and wear evenly. Fundamentally, good underlay will extend the lifetime of your carpet and will always improve the way the carpet feels when you walk on it. As well as increasing heat and sound insulation.
Unfortunately, underlay wears out over time, so you should replace it every time you buy a new carpet. We will always recommend the best underlay based on your room and carpet choice. However, if you are keen to cut costs you may choose a cheaper option.
How to buy carpet and work out prices
The most important factor to remember when working out carpet costs is that you must buy the carpet in set widths. Therefore, there can be a lot of wastage.
Generally, carpets are sold in rolls that are 4 metres or 5 metres wide, and a piece will be cut from the roll that is the length of your room. The carpet fitter will trim away any excess from the width, but you will still have to pay for this unused carpet.
But there are options to put carpet trimmings and offcut to good use. For instance, offcut carpet can be used to make doormats and rugs, or to carpet the inside of cupboards.
Get an estimate
The next step is for a carpet fitter to check the measurements and most of the time this will involve a quick visit to the property. We will take accurate measurements and give you a full estimate of the carpet costs, underlay, and fitting.
We offer a free, no-obligation measuring appointment. And, If you haven't yet ordered samples, we can bring some along to give you an idea of how various carpets will look in your room.
Our free carpet quote will include any extras that you will need to pay for, such as: removing and disposing of old carpet or other flooring moving furniture gripper rods and door trims, and door alterations.
Get Your carpet fitted
Once you are happy with the quote then it's time to get your new carpet fitted by Carpet Corner! We will book you in a slot that is suitable for you with one of our expert carpet fitters. Or we can supply the carpet and you can arrange the fitting yourself.
PLEASE TAKE A LOOK AT OUR EXCELLENT CUSTOMER COMMENTS BY CLICKING HERE