Wool Carpet
Wool comes from sheep or OVIS ARIES if you like to get technical! The look, feel and quality of a carpet is largely dependent on the type of yarn fibres used to make it.
Carpet suffers very harsh treatment from shoes, furniture, grit, dirt and vacuum cleaners. The pile must retain its looks and density, and so must be very hard wearing to withstand years of everyday use.
We pride ourselves in having a large selection of 80/20 Wool Roll Ends and Remnants in stock in both 4 & 5m width which are all at a fraction of the usual retail price. Many of our special order carpets are also wool-rich.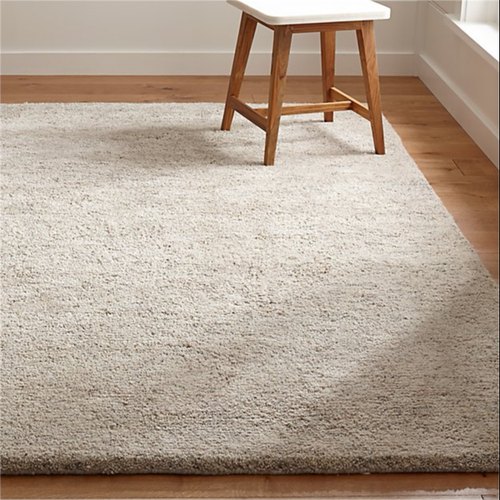 Buy Wool Carpets & Rugs in the North West
Explore our spacious store offering budget brand-name designer carpets today! If you like the idea of a wool carpet, but don't really want it covering the entirety of your room, then why not opt for a rug? We have everything your home could ever need carpet-wise!
Carpet Corner Atherton, Manchester is the home of local quality carpets and flooring specialising in wool carpets, contact us for more information about your carpeting needs. Or, read on to understand what makes this type of carpet a great choice…
About Wool Carpet
Wool is recognised as one of the best fibres to use when manufacturing carpet as it's naturally flame-retardant, durable, very easy to clean and retains its appearance extremely well. It offers softness and ease of cleaning, doesn't flatten easily and resists abrasion and dirt. It has natural insulation properties which is good for reducing both heat loss and noise.
Wool is also a sustainable fibre, and it's recommended that wool should be used for carpet either in a pure 100% form or in a blend with other fibres with at least 50% wool. However, it's much more expensive than man-made fibres, so the most common carpet fibre blend is 80% wool and 20% synthetic fibre mix, as this combines the best properties of both and keeps costs reasonable.
Wool Carpet Suppliers
SUPPLIERS of
Texture carpets and rugs TO ATHERTON, TYLDESLEY, ASTLEY, BOOTHSTOWN, HINDLEY, AND LEIGH.
Quality Textured Carpet
FITTING AND DISTANCE NO OBJECT THROUGHOUT GREATER MANCHESTER TOWNS OF BURY, BOLTON, LEIGH, OLDHAM, ROCHDALE, SALFORD, STOCKPORT, TAMESIDE, TRAFFORD, AND WIGAN.