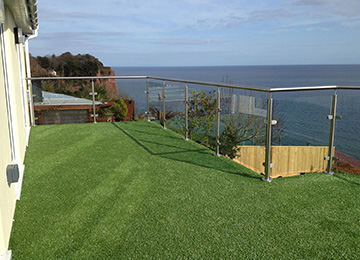 In busy garden settings, Grass can become really hard to maintain and look after. Overtime Lawns can become patchy, uneven and an eyesore, not what you were expecting from your dream home. This will certainly be the case with high traffic gardens, so instead of using lawn care products consider artificial grass, the ideal outdoor flooring.
During the summer months, Artificial Grass really proves its worth in your garden. Whilst your neighbours ignored their lawn during the colder months, your grass will always look ready for summer.
Above all, the summer is the best time of year to replace your grass lawn with an artificial alternative. Maintain the perfect lawn look all year round with the help of Carpet Corner. Not only are we interior flooring specialists, we are also cover artificial outdoor solutions too.
Choose the Ideal Outdoor Flooring over the Natural
The first question customers ask when contemplating this flooring is: why choose fake over real? In theory a fake won't be able to recreate the natural surface; however, this simply isn't the case. Ultimately this choice comes down to how easy up keep is with this very smooth material.
Synthetic turf will only need a basic brush down every now and then, perhaps leaf blowing too. This is because it doesn't need weeding, fertilising, watering, etc. To add to this, it is weatherproof, eco-friendly and prevents any dangerous build-ups from occurring.
Choosing Artificial will bring much more comfort to your garden, making it an extension of your home. Compared to grass this is a much more comfortable surface, hence why it's so ideal for family homes. Most importantly maintaining the feel and appearance for years to come.
Summer in Style
Take in the rays with your new garden design, a whole garden design can be artificial nowadays. This goes beyond grass and could mean artificial flowers, plants and other garden accessories. This way your garden will maintain its visual appeal from season to season.
So if you are turning your garden into a snug setting to enjoy the summer's breeze, invite the family round! Show off your comfortable garden setup to the whole family whilst enjoying a lovely BBQ. However, it is important to note BBQs shouldn't be placed on the turf yet any garden furniture should be fine.
As a durable all-weather surface, Pools can definitely be put on top of them. Any spillages will dry as they would in rain, meaning you can go for a paddle in the pool during the heatwaves.
The Ideal Outdoor Flooring Look at Carpet Corner
Carpet Corner is a family-run floor supplying business providing affordable artificial grass, running since 1968. Our team will be able to help plan and design the perfect flooring for your garden. Even if you are struggling for ideas, they have the experience to recommend the ideal fit.
If you are interested in making your home feel more homely, we also provide in-door flooring. For instance carpets, laminate, project, vinyl and luxury vinyl flooring to name a few.
For your artificial grass questions to be answered get in touch with our team, by clicking here.